Description
VS Bodyboards – Joe Clarke Bodyboard
Joe Clarke is a pretty sick bodyboarder known for his unique style of bodyboarding and ability to land some pretty insane stuff. Check out this video of Clarke on VS bodyboards.
This is Joe Clarke's bodyboard all the way around. VS bodyboards partnered up with Joe to give him the type of bodyboard that he wants. The end result was this awesome bodyboard. It was designed for Joe to be fast and speedy with the ability to easily land airs. Check out what Joe says about his bodyboard.
Pricing, pictures, and information about this bodyboard on Amazon.com
"My new boards are the fastest boards I have ever ridden! I've been working on a 'bullet' like board, narrow and straight!!! Perfect for pocket surfing in the hollow stuff and fast driving bottom turns to hit sections! Ive made the nose a bit wider and I've found that its a lot easier to land maneuvers – good for comps! I usually ride a stock standard PP with stringer and mesh. But I'm onto the Parabolic cores! I reckon they go amazing in the Australian waters!""
VS Bodyboards Clarke PFS Bodyboard Features
 Parabolic Core
Wave Cushion 8lb PE Deck
Surlyn Slick
Crescent Tail
Parabolic Flex System
CFT Stringer
React Mesh
Graduated Channels
Nose & Tail Bumper
55/45 Double Rails
Bull Grips
Okay this board is a pretty sweet – It looks awesome and its pretty much super high quality. As far as "pro" bodyboards are concerned this is a pro bodyboard all the way around. It has an amazing list of features – i had to do a ton of research on this board. The most unique things this board offers if VS Bodyboards unique parabolic flex system.
The Parabolic core basically means that the core on the inside is part of this PFS system or (parabolic flex). The core on this board is very stiff. The parabolic core is very stiff and very strong. It is made out of the same material that wind turbines are made out of. Essentially the parabolic core is the core component to the PFS or parabolic flex system.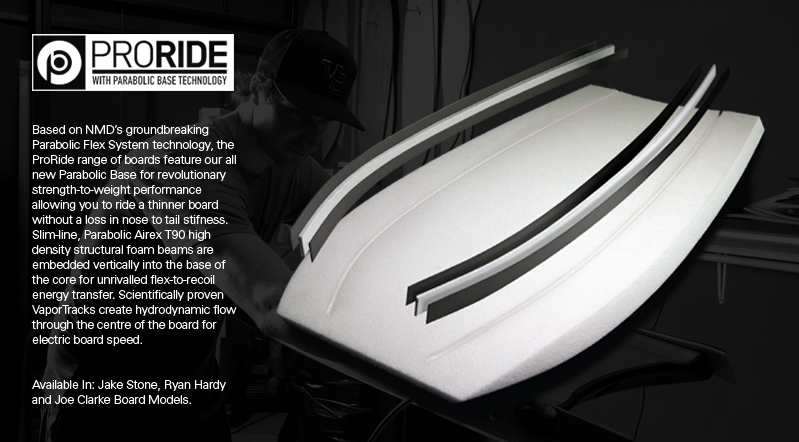 VS Bodyboards PFS (Parabolic Flex System)
The parabolic flex system in it's entirety is a system developed by NMD bodyboards that has become very popular. After Dave Winchester scored a perfect 10 at the 2010 IBA Arica Chile event on a PFS board these boards got some serious attention. The PFS system is made up of a stiff core with a softer material used for the rails. This allows the rails on the bodyboard to flex while the core stays stiff. It is a very interesting effect that it creates. If you could picture grabbing the rail of your board after dropping in on a wave, imagine being able to flex just the rails up to fit the contours of the wave. Its a very cool system and it works very well.
The deck on this board made by VS Bodyboards is made up of an 8lb PE foam. A PE foam is polyethylene. This foam helps the board float very well. It is a fairly thick board that is going to allow your body to get up on top of the water. This is helpful for spotting incoming sets out on the water. It is a very soft and sort of cushion material – just like the name implies.
The slick on this board is made out of surlyn. VS bodyboards are known for their extremely high quality and this bodyboard is just that. Surlyn is the highest grade slick material on the market today and it is very fast and durable.
VS Bodyboards Control and Grip
VS bodyboards of this quality come with all different styles of tails. However, this board specifically, the VS Joe Clark PFS bodyboard comes with a crescent tail. The crescent tail VS bodyboards are known very well for the amount of control they offer on the waves. Crescent tails offer a higher level of grip and control than bat tails or any other tail types.
This board is very controllable, not only due to its crescent tail but also due to its high performance graduated channels. The channels on these vs bodyboards help the board channel out water underneath the board to add continuous grip on the water. The channels typically enhance control and grip performance. Most of the time some riders find that having a crescent tail and channels isn't mandatory. But if you're going to be doing some serious riding in competitions or your just looking for a professional level bodyboard than the channels are going to give you what you want: technical riding ability.
Pricing, pictures, and information about this bodyboard on Amazon.com
Adding to the technical riding ability of these vs bodyboards is the double rails. Like i mentioned before, the PFS (parabolic flex system) vs bodyboards have a stiff core and flexible rails. The double rails due have quite a bit of flex. But at the same time the rails allow for enhanced control and grip on the wave. The rail ratio is  55/45. This means you have 55% of the bottom rail in the water which enhances control while you have about 45% of the top rail to grip on to.

Adding to the whole control and grip theme on this VS bodyboard you have nose and tail bumpers with Bull grips. So this allows you (the rider) to have an enhanced grip on the board as opposed to the board and you having a grip on the water. This is going to allow you to stay on the board much much easier during choppy water conditions or big drops that you might face out in the water.
Like i mentioned earlier, the core is stiff and adding to that – you have a CFT stringer which is a hollow stringer – this adds strength to the board. Stringers work like a spine or skeleton for your board. It gives the stiff core a little bit of recoil for plowing through high speed turns and big airs. Any flexing that might take place will allow the board to spring back to its original stiff position. These are all awesome features and very high end stuff.
VS bodyboards and Joe clarke designed this board to perform like a dart in the water as Clarke himself said. The react mesh material gives the board stiffness and adds speed and maneuverability to the board.
So all in all, these vs bodyboards are packed full of really awesome features. The VS Joe Clarke bodyboard is one of the highest quality bodyboards out there – if you're looking for a competition worthy board then this bodyboard is going to get the job done very, very well. It has a stiff core with a hollow stringer, flexible rails at 55/45 and a soft deck. The surlyn slick bottom and react mesh add for huge speed – almost like a dart in the water. The bull grips and nose and tail bumpers just add even more control to this board.
What's the verdict?
The VS bodyboards PFS system is one of a kind and you need to experience it for yourself.
Pricing, pictures, and information about this bodyboard on Amazon.com